"The key level to hold into next week's [Fed policy] meeting lies at lows from two weeks ago at 4114 but initially 4157 is important," Newton said. The S&P 500 closed at 4204 on Friday.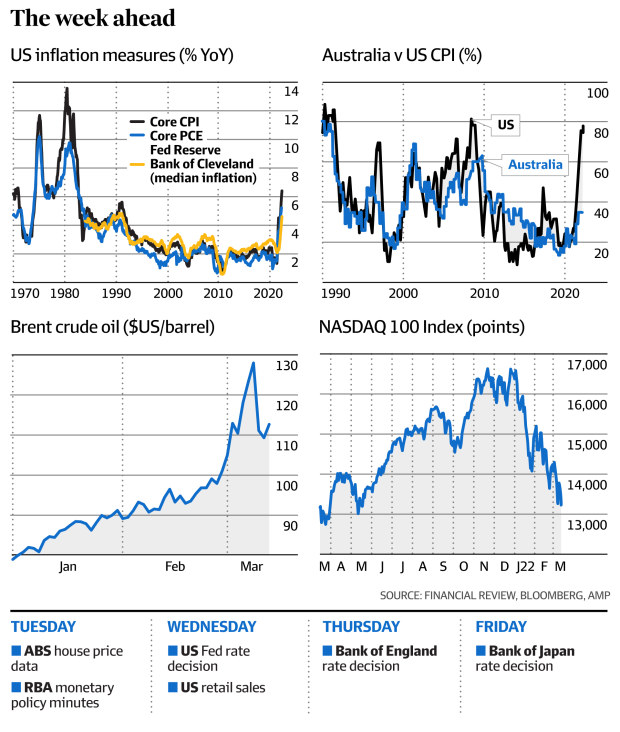 Today's agenda
Local: NZ January net migration. The Australian data highlight this week will be February's jobs report on Thursday.
Overseas data: Euro zone industrial production
*Note: Daylight savings time began in North America this past weekend; daylight savings will end in Australia on April 3.
Market highlights
ASX futures up 20 points or 0.3 per cent to 7071
AUD -0.9% to 72.93 US cents
Bitcoin on bitstamp.net $US as of .. am AEDT
On Wall St: Dow -0.7% S&P500 -1.3% Nasdaq -2.2%
In New York: BHP -3.7% Rio -2.9% Atlassian -3.5%
In Europe: Stoxx 50 +1% FTSE +0.8% CAC +0.9% DAX +1.4%
Spot gold -0.4% to $US1988.46 in New York
Brent crude +3.1% to $US112.67 a barrel
US oil +3.1% to $US109.33 a barrel
Iron ore -1.2% to $US154.50 a ton
2-year yield: US 1.75% Australia 1.28%
5-year yield: US 1.95% Australia 2.10%
10-year yield: US 1.99% Australia 2.39% Germany 0.24%
From today's Financial Review
Inflation threatens global bear market for shares Equity investors face another white-knuckle week punctuated by the US Federal Reserve's first post-pandemic interest rate hike, war in Europe, and fears that soaring fuel prices will demolish the global economic recovery.
Omicron election campaign amid another global COVID-19 wave An outbreak of COVID-19 cases driven by the highly contagious BA.2 variant will likely peak in mid-April, possibly disrupting the federal election campaign, modeling suggests.
Russia strikes Ukraine military site near Poland The site is 25 kilometers from Ukraine's border with Poland, which has been a lifeline for Ukraine since the war started on February 24.
United States
Wall Street sells off to end the week with rate rise on radar: US stocks slumped on Friday in New York amid uncertainty about the widening economic impact of the war in Ukraine and expectations that interest rates will rise this week.
The Fed's scheduled two-day policy meeting will conclude early Thursday AEDT.
Goldman Sachs has cut its year-end target for the S&P 500 to 4700 from 4900, reflecting its expectation that corporate profits are poised to snap back amid rising commodity prices and bets on lower economic growth.
On Friday in New York, the S&P 500 slide 1.3 per cent to 4204.31.
"Our new 2022 [earnings per share] estimate of $US221 reflects 5 per cent year/year growth compared with our prior estimate of 8 per cent growth to $US226. Our forecast 2023 earnings growth rate remains unchanged at 6 per cent but the EPS level is trimmed to $US233 (from $US240)," Goldman equity strategist David Kostin said.
"A 12 per cent upward revision to Energy sector EPS partially offsets headwinds to profits in other sectors from decelerating consumer spending and increased input cost pressures. Excluding Energy, we expect S&P 500 EPS will grow by just 2 per cent in 2022 v 6 per cent for consensus."
What the Fed will do/say
RBC Capital Markets: "We are not sure if there has ever been a time (at least since we have been doing this) where a Fed chair basically pre-empted the coming FOMC meeting. We are referring to Powell's recent Congressional testimony where he pretty much told us what would happen at the coming meeting. So a 25bps hike plus some solid color on balance sheet reduction should be expected.
"We know at this point the Fed is hyper focused on inflation so we expect Powell will continue to weigh that challenge over the conflict in the Ukraine. In other words, he will flag additional hikes are coming. We will also get a fresh set of dots where the 2022 median is primed to increase (we'll have more to say on this in an FOMC preview DD just ahead of the FOMC meeting)."
TD Securities: "Chairman Powell all but gave a green light for a 25bp liftoff in March during his testimony before Congress. In our view, the current state of the Fed's dual mandate supports the decision to liftoff. We expect Powell to also convey that the Fed is ready to continue with its process of monetary policy normalization in 2022. Further QT details are also likely to be released."
Morgan Stanley: "We expect to see a number of important changes to the Summary of Economic Projections (SEP) that will likely show somewhat lower growth, higher inflation, and lower unemployment in the projections, while the expectations for policy tightening are likely to shift higher, putting rates on course to rise above neutral.
"With a worsening inflation problem, we expect the Fed to highlight its whatever it takes commitment with a dot plot showing terminal rates above neutral, and markets seem underpriced in 2023. We stay positioned in 2s10s and 2s30s flatteners to capitalize on a hawkish Fed, as well as flight-to-quality demand in the back end."
BCA's view via price pressures: "… inflation will likely end the year above the Fed's 2 per cent target. Policymakers will navigate this period by attempting to tighten enough to slow inflation without tipping the economy into recession. This will likely translate into a 25 bps rate hike at each FOMC meeting starting [this] weekend. Any signs that this pace is too aggressive – an inversion of the yield curve or a significant equity sell-off – will cause the Fed to slow down."
Europe
The pan-European STOXX 600 index closed 1% higher, and snapped three weeks of losses, adding 4% on the week as stellar gains for beaten down stocks outweighed declines from worries over the fallout from the ongoing Russia-Ukraine war.
The European rally followed comments by Russian President Vladimir Putin that there had been some progress and "positive shifts" in Moscow's talks with Ukraine. It wasn't until after the markets closed that Ukraine rebuffed Putin, saying there had been "zero progress" in talks so far.
In a note, Bank of America said European equities just suffered the largest weekly outflow ever – to the sum of $US13.5 billion.
Asia
The downward spiral of Chinese tech stocks shows no signs of abating, with alarms now ringing in the options market, Bloomberg reports.
Even after a drop in market value of almost $US2 trillion, investors are seeking hedges against further losses in the Hang Seng Tech Index. Bearish options on the benchmark are trading near a record premium above bullish calls as the gauge plunged this week, data compiled by Bloomberg shows.
The tech index has plunged 61% from its peak last year. The Nasdaq Golden Dragon China Index of US-traded stocks has fared even worse, down 68%, and with another bad day or two, the peak-to-trough decline could surpass its 72% crash in the 2008 global financial crisis.
"The market is very panicky," said Paul Pang at Pegasus Fund Managers, who has sold almost all his stake in Alibaba Group Holding. "Sanctions against China are not impossible, if China refuses to take sides on the war in Ukraine. Tech shares are among those risky names exposed in the crossfires in the rising Sino-US tensions."
On Friday, Hong Kong's Hang Seng Index slipped to its lowest close in over five-and-a-half years, though early losses were pared on investors' hopes rose for an agreement between Chinese and US regulators over securities' supervision.
The HSI finished 1.6% lower, paring earlier losses near 4 per cent, its lowest close since July 6, 2016. The Hang Seng Tech Index, down nearly 9% at one point, finished 4.2% down, at its lowest-ever close.
In mainland markets, China's CSI300 Index closed 0.3% higher, reversing an earlier 2.7% drop. The Shanghai Composite index finished 0.4% higher.
Currencies
Goldman Sachs has lifted its forecasts for both the Australian and New Zealand dollars: "The rapidly shifting macro backdrop has required us to reassess our outlook for AUD & NZD.
"On the one hand, our economists have recently revised down our growth forecasts in the Euro area and the US, and risks to global growth still look skewed to the downside. On the other hand, our economists pulled forward their forecast for RBA lift-off on the back of higher-than-expected inflation, Asia underperformance has not played out as we anticipated, and rising commodity prices, particularly coal and iron ore prices, have notably benefitted Australia's terms of trade.
"As a result, we are marking-to-market our AUD & NZD forecasts across our 3, 6, and 12m forecast horizon, raising AUD/USD to 0.73 (vs. 0.70, 0.70, 0.71 previously) and NZD/USD to 0.68 (vs. 0.66, 0.66, 0.67 previously). Thus, we are also turning more neutral on the AUD/NZD cross with a flat forecast of 1.07 over the next 12 months (vs. 1.06, 1.06, 1.06 previously)."
Commodities
S&P Global Platts said Chinese buying interest in iron ore was subdued, with the spread between portside and seaborne prices continuing to remain wide.
"With the resilient iron ore prices and rising coke prices, coupled with
weaker finished steel demand, steel margins were heard narrowing," sources told Platts. "With that, some see mills shifting their preference
towards low and medium-grade fines due to their cost-efficiency."
Platts on what's happening in Ukraine: "Iron ore miners in Ukraine are operating at well below full capacity, according to Kyiv-based industry analysts GMK Centre, adding that although most plants are still running, their utilization rate is only around 50%.
Miners in Ukraine can only ship their products by rail at present, which means trade is limited to Europe, with all of Ukraine's sea ports currently blocked, it also said.
**
Benchmark aluminum on the London Metal Exchange (LME) was up 1.9% at $US3493 a tonne at 1707 GMT on Friday.
The metal, used in transport, construction and packaging, see-sawed from around $US3300 on February 23 to $US4073.50 on Monday and back to $US3300 on Wednesday.
Aluminum is still up around 25% this year after rising 42% in 2021, when a supply deficit began to form.
"There is across commodities markets some confusion about where prices should be," said WisdomTree analyst Nitesh Shah. "If this (war in Ukraine) is a protracted conflict, a lot more supply will probably get hurt."
Australian share market
ASX ends lower as miners hand back gains: The Australian sharemarket has fallen this week, weighed by losses from the materials sector, as sky-high commodity prices retreated slightly through the week.
street talk