While Big Tobacco companies announced temporary closures in Ukraine, most had kept their Russian sites open. That has led to a growing chorus on social media calling for them to suspend their businesses there.
Scandinavian Tobacco, a maker of pipe tobacco and cigars, halted operations in Russia on March 1. The Danish company said it aimed "to exert pressure on the Russian regime and make it clear that we will not accept their actions."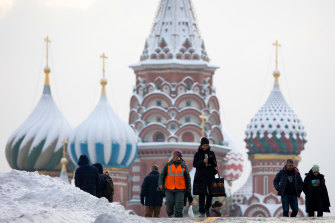 Russia is the world's fourth-largest cigarette market by volume, and nearly a third of its adult population smokes. The country's $US18 billion ($24.6 billion) tobacco market is largely dominated by foreign players, and halting cigarette sales would erase billions of rubles in tobacco excise revenues, which amounted to 560 billion rubles ($6.4 billion) in 2019, according to Statista.
A growing number of US and European labels, ranging from McDonald's to Rolex and Amazon.com, have announced decisions to stop at least some of their work in Russia as the backlash grows over the war.
Until now, Big Tobacco had been a holdout.
One risk of halting business in either Russia or Ukraine is that it could fuel an increase in the illicit cigarette trade. Counterfeit cigarettes carry additional health risks in the absence of quality control and can help finance organized crime and terrorism.
Loading
Tobacco firms employ thousands of people in Russia at regional offices and manufacturing sites. Philip Morris counts some 4,000 employees, while Japan Tobacco, which sells Winston and Russian brands like Donskoy Tabak and Peter I, has about 4,500 workers there. BAT has 2,500 employees in Russia.
Bloomberg