"Historical data suggests that even in the most flood-impacted suburbs, property prices have continued to trend upwards, with a dip only experienced in the year after the floods," Dr Mardiasmo said.
Loading
Brisbane buyers' agent Wendy Russell said in the immediate aftermath of the latest floods, inspection numbers dropped and buyer fears rose.
"The fact that the floods have happened again [sooner than anticipated] has bought it to the forefront again for people," Ms Russell said.
"But despite that, the market is still going to move forward and the Olympics are on everyone's mind, which will continue to drive it."
It's those compelling market dynamics that are sparking renewed bursts of international buyer activity this year, Ms Russell said, particularly with borders fully re-opening.
Loading
"I'm still fielding inquiries and clients from Singapore, Macau and Hong Kong. The international client base for me personally has definitely ramped up from last year, and moving into this year there's increased interstate [activity] as well. Everyone has their eye on Brisbane."
It's a trend Ray White New Farm principal Matt Lancashire has also seen, with increased interstate and international buyer activity leading to a handful of multi-million-dollar sales in the past few weeks alone.
"The continuation of expats coming home from Singapore and Hong Kong has been really strong, as well as our Sydney and Melbourne buyers migrating north," Mr Lancashire said.
"In 2021 we saw a huge amount of growth coming from interstate and overseas. Queensland was the benefactor of 32,000 people migrating into our state and 25,000 of those people came into Brisbane.
"Now 50 per cent of our buyers are local and the other half are interstate or international."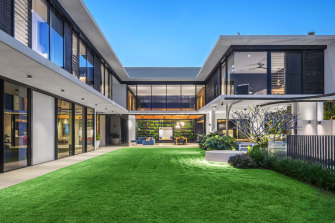 It's a trend Mr Lancashire said sparked a bidding war between locals and interstate buyers, with one home – 30 Kitchener Road, Ascot – recently selling for almost $2 million more than it fetched in 2018.
And just a couple of weeks ago, over in Clayfield, an overseas buyer won a property duel after forking out a record-breaking $8.4 million for 43 Union Street.
Jason Adcock, of Adcock Prestige, sold the six-bedroom home and said the stellar sum smashed the suburb record by $1.4 million.
"The reopening of international borders means that plenty of expats are now able to return to Australia and they will arrive cashed up and ready to buy," Mr Adcock said.
"The buyer of this property is moving here from California because the safety of living and working in Australia appeals to them."
For interstate buyers Dr Kevin Pathmanathan and his partner Dr Laura Renger, it was the affordability of properties, work opportunities and family connections that drew them to recently ditch Sydney for Queensland.
The pair, who stalked the market for two years before ramping up their search in October with the help of Ms Russell, said while Brisbane prices were skyrocketing they still offered far better value than Sydney.
"In Sydney's north shore, the price we could get there, for the same price as a four-bedroom house in Windsor [in Brisbane] would be a one- or two-bedroom apartment," Dr Pathmanathan said. "But we still had to expand our search bubble because the market was hotter than we expected."
While the couple settled on their home just before the floods struck Brisbane, Dr Pathmanathan said they nevertheless took the city's historic flooding into account.
"We looked into the flood maps before buying and we had bought in an area that's not known to flood and, thankfully, it was all fine. I don't think it has really unsettled our experience here. Brisbane is a great place and it will bounce back."