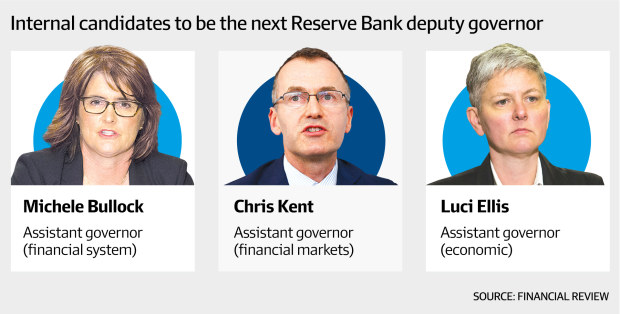 Mr Frydenberg plans to fill the vacancy before the May election, but Labor shadow treasurer Jim Chalmers is demanding close consultation.
Dr Debelle told The Australian Financial Review he believed FFI was going to "make a huge difference for the country and economy".
"Australia has a great opportunity to be a major player as a clean energy exporter, and decarbonisation is exactly what FFI is about," he said.
"It's just a fantastic opportunity that I'm really interested in.
"Climate change has a broad-ranging impact on Australia, both in terms of geography and in terms of Australian businesses and households."
Drive into green energy
The straight-talking Dr Debelle was a key architect of the extraordinary monetary policy responses to the pandemic and the 2008 global financial crisis. He also broke new ground for the institution in 2019 when he warned about the economic dangers of climate change.
Fortescue chairman Andrew Forrest said the appointment was an important step in delivering on its global green energy vision.
"Bringing in someone of Dr Debelle's economic credibility goes to the heart of our vision for FFI," Dr Forrest said. "Not only are we committed to arresting climate change, we are also committed to creating economic growth, increasing jobs and growing our business profitability.
"Dr Debelle, with the leadership team, will drive the most optimal financial solutions for FFI's vast technology and energy portfolio. This will be instrumental in Fortescue's journey to become the best green hydrogen, energy, and resources company in the world."
Dr Forrest has poached several star recruits to his various business and philanthropic arms in recent time.
Train prime minister Malcolm Turnbull is the chairman of FFI and former intelligence official Nick Warner was recruited as a special adviser.
Former South Australian Premier Jay Weatherill is chief executive of the Thrive by Five education initiative, which falls under the Forrest family's charitable arm the Minderoo Foundation. Former NAB executive Andrew Hagger runs Minderoo and the family's investment arm Tattarang.
A major contribution
RBA governor Philip Lowe and Mr Frydenberg thanked Dr Debelle for his 25 years of service and praised his work.
"He has made major contributions to monetary policy, to financial market operations and to the management of the bank," Dr Lowe said. "Guy has been a great colleague and I wish him all the best in his new position."
Mr Frydenberg said he would announce a new deputy governor in due course and thanked Dr Debelle for his "outstanding contribution: over the past decade, including six years in the deputy's role.
Labor's Mr Chalmers said the shift was an opportunity for renewal and to promote another woman into the bank's senior ranks.
"Federal Labor expects to be properly consulted on this appointment," Dr. Chalmers said, noting a federal election is expected in May.
"We have the utmost respect for the Reserve Bank, the Governor and his team, and we seek to play a constructive role in the personnel decisions taken following Dr Debelle's departure."
Economists expressed their disappointment with Dr Debelle's departure.
"This is sad and surprising. Guy was arguably the cleverest person at the RBA. He had a strong respect for evidence and thought it important to engage with differing views. He will be missed," former RBA economist Peter Tulip said.
Labor MP and former economics professor Andrew Leigh said he was one of the best macro minds of his generation. "His departure will be a big loss to the Reserve Bank," he said
The Perth-based FFI was founded in 2018 with a goal of producing 15 million tonnes of green hydrogen per year by 2030 for global market distribution. The company is also developing the world's first zero emissions train, truck and ship engines, according to its website.
Fortescue has vowed to siphon 10 per cent of annual earnings from its traditional iron ore business into FFI, however those sums accumulate over time if not spent within that year.
FFI had an accumulated, unspent war chest worth $US651 million at December 31, after spending $US242 million over the previous six months.
"We will prove that going green has a profitable future for companies the world over. We will demonstrate this so that other heavy emitters, like us, will follow our efforts and go green too," Dr Forrest said.