Zcash (ZEC) is a cryptocurrency that uses the zk-SNARK zero-knowledge proof technology focused on privacy and anonymity. It was founded in 2016.
The coin soared more than 12% on Tuesday after GrapheneOS, a non-profit open-source project focused on privacy and secure mobile OS, said it now accepts Zcash.
Currently, the firm has 869,039 ZEC holders. GrapheneOS also accepts donations in Bitcoin, Monero, Paypal, Interac e-Transfer, and Github-sponsored credit cards.
Also Read: Why is Friends with Benefits (FWB) crypto rising?
Who founded Zcash (ZEC)?
Zcash was founded by Zooko Wilcox-O'Hearn, who also created the Electronic Coin Company (ECC) that manages Zcash's development. Wilcox-O'Hearn has extensive experience in cryptography and information security.
ZEC transactions can be done in two ways: Transparent and Shielded.
In a Transparent way, the transaction is done the same way as for other cryptocurrencies where the public addresses are visible.
In the Shielded transaction, ZEC uses the zk-SNARK zero-knowledge proof technology to enable anonymous transactions on the immutable public blockchain.
Though it is transacted via public blockchain, ZEC transactions do not reveal the sender or receiver's address or the amount transferred by default. The company's transaction details are disclosed only for regulatory compliance or audit.
Zcash's unique solutions provide users with complete anonymity.
Also Read: Why Arcade Crypto (ARC), Polygon aim for cross metaverse NFT project?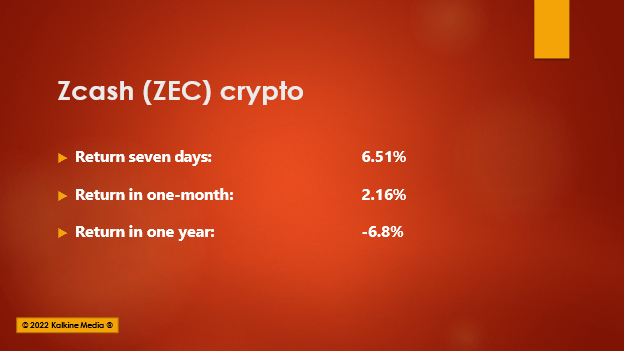 Data Source: Coinmarketcap.com
Also Read: Why is NFT game Alien Worlds' (TLM) offer catching attention?
How other cryptocurrencies function?
For other cryptocurrencies, the user identity does not remain anonymous. The identity is provided on the Internet with a pseudonym or the address.
For instance, Bitcoin users' identities can be seen by everybody on the Internet. Their identities can be revealed by tracing the transactions through blockchain forensic.
Also Read: Why is Immutable X (IMX) crypto rising?
Zcash's shielded feature gives users complete privacy, which is uncommon in other blockchain transactions. It affirms users' right to privacy in the decentralized digital assets domain.
Due to its privacy features, people are showing immense interest in ZEC coins for sending and receiving money.
Also Read: DKS, CRWD, & RIVN among top five stocks to report this week
On the other hand, GrapheneOS develops apps and services focused on privacy and security. The company's open-source project does not use apps like Google Play or microG. On March 4, Electric Coin Co. (ECC) announced the appointment of its new Communications and Community Manager Ian S. In a recent tweet, he said that he sent proceeds from CitizenDAO PEACE bonds to organizations helping war victims in Ukraine.
The coin is currently available for purchase on Binance, ByBit, OKX, Bitget and Phemex.
Also Read: Women's Day: Nine crypto entrepreneurs climbing the ladder of success
bottom line
Zcash's price rose 12.75% to US$126.93 at 9:13 am ET on Tuesday.
The coin, ranked 52nd on coinmarketcap.com, has a market capitalization of US$1.7 billion. The coin's volume increased around 81.45% in the last 24 hours to Tuesday morning.
ZEC has a circulating supply of 13.9 million ZEC. Its maximum supply is 21,000,000. The coin is supported by more than nine wallets, including MetaMask, Ledger, Math Wallet, Coinbase, etc.
The crypto market is volatile. Hence, investors should do due diligence before investing in digital assets.
Risk Disclosure: Trading in cryptocurrencies involves high risks, including the risk of losing some, or all, of your investment amount, and may not be suitable for all investors. Prices of cryptocurrencies are extremely volatile and may be affected by external factors such as financial, regulatory, or political events. The laws that apply to crypto products (and how a particular crypto product is regulated) may change. Before deciding to trade in financial instrument or cryptocurrencies you should be fully informed of the risks and costs associated with trading in the financial markets, carefully consider your investment objectives, level of experience, and risk appetite, and seek professional advice where needed. Kalkine Media cannot and does not represent or guarantee that any of the information/data available here is accurate, reliable, current, complete or appropriate for your needs. Kalkine Media will not accept liability for any loss or damage as a result of your trading or your reliance on the information shared on this website.